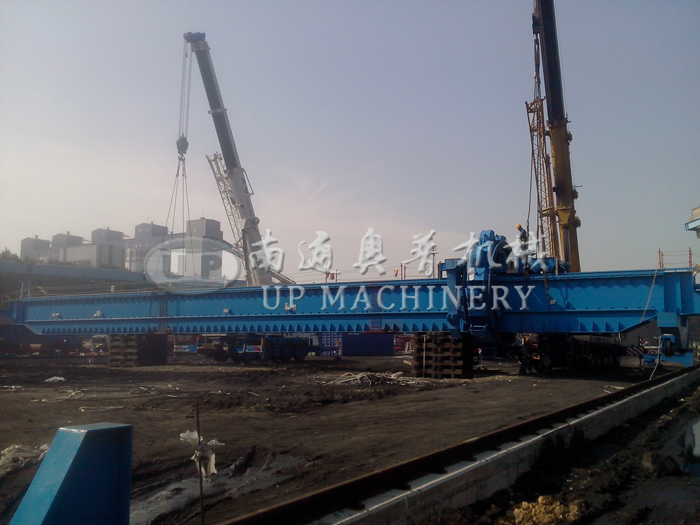 Brief introduction
Bridge-type bucket wheel reclaimer is an effective and continuous operation large bulk material mixing and reclaiming device which is mainly used for longitudinal yard in power, steel, metallurgy, coal, building material and chemical industries. It can complete the mixing requirements of bulk materials. It has the advantages of good mixing effect, large capacity and high production efficiency.
Bridge-type bucket wheel reclaimer reclaims materials through the rotation of bucket wheels installed on the main girder. The bucket wheel rotates and the sliding vehicle on main girder lateral moves together with bucket wheel device and rake along the bridge at the same time. The rake rakes and mixes material to get high homogenization & blending material. The materials are dropped to bottom of pile and bucket digs materials to belt conveyor. The big vehicle goes ahead after the small vehicle is on limited position, and then the vehicle runs in opposite direction for reclaiming and cycles until finishing whole materials in yard.
Basic structure
Bridge-type bucket wheel stacker & reclaimer mainly consists of bucket wheel device, belt conveyor, bridge, material rake, travel vehicle, lubrication system, rail system, control room, etc.
Main technical parameters
| | | | | | |
| --- | --- | --- | --- | --- | --- |
| Material | Bulk density (t/m³) | Granularity (mm) | Moisture (%) | Stacking capacity(t/h) | Gauge (m) |
| coal, concentrate, ore fines and other bulk materials | 0.8-2.6 | <100 | <8 | 50-4000 | 20-60 |