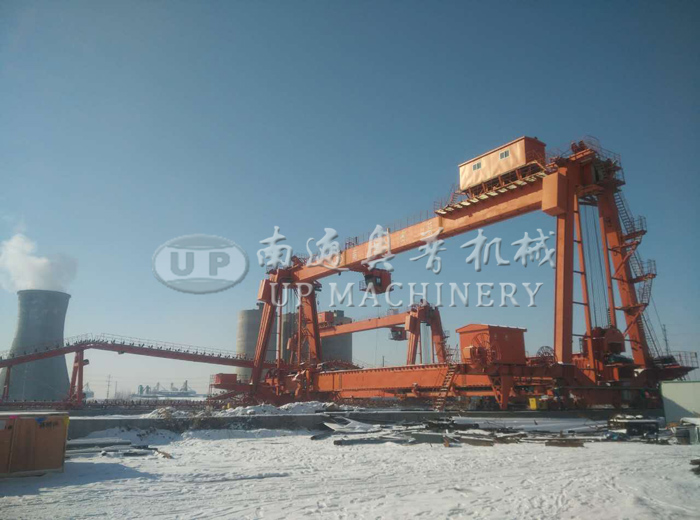 Brief introduction
Portal bucket wheel stacker & reclaimer is an effective and continuous operation bulk material loading and unloading device which is mainly used for power, metallurgy, coking, port and other bulk material yards. It has the advantages of good stability, high reclaiming effect, easy classify management, low civil engineering cost, etc.
The main parts of portal bucket wheel stacker & reclaimer are connected by portal main frame. We updated the first and second generation models and then formed the current third generation models. The third generation model overcame the disadvantage of difficult maintenance for three belts on portable beam and adopts the equal altitude arrangement of stacking belt conveyor and reclaiming belt conveyor and cancels the small reclaiming belt conveyor to add shunting device and the tail vehicle realizes conversion of stacking position and reclaiming position by ring conversion device.
Basic structure
Portal bucket wheel reclaimer mainly consists of portable beam, fixed beam, flexible support, rigid support, roller device, belt conveyor, elevating device, shunting device, travel device, platform, electric control room, cab, dedusting device, lubrication system, power unit, electric system, etc.
Main technical parameters

| | | | | | | |
| --- | --- | --- | --- | --- | --- | --- |
| Material | Bulk density (t/m³) | Granularity (mm) | Moisture (%) | Stacking capacity(t/h) | Reclaiming capacity (t/h) | Gauge (m) |
| coal, concentrate, ore fines and other bulk materials | 0.8-2.6 | <100 | <8 | 300-3000 | 150-2000 | 20-55 |