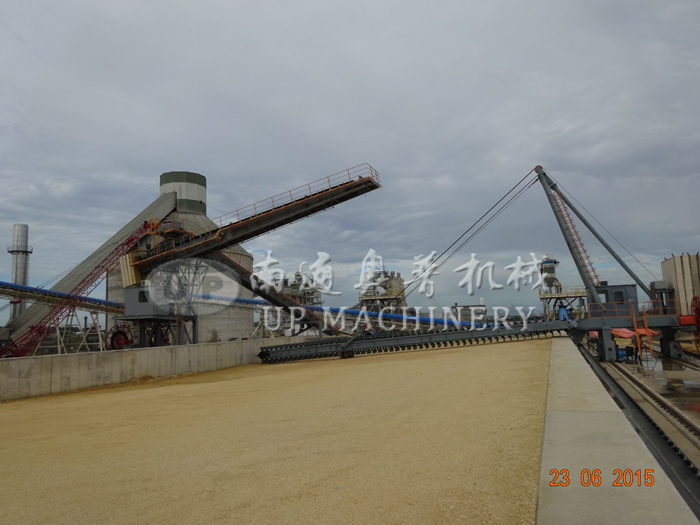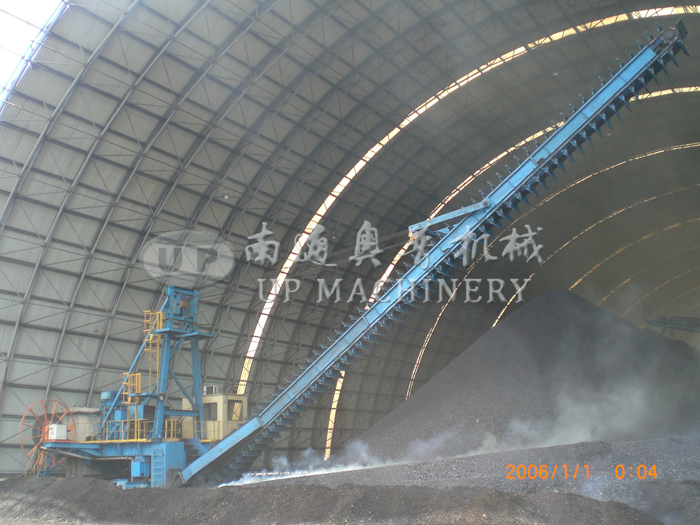 Brief introduction
Side scraper reclaimer is widely used in mining, smelting, building materials, water conservancy and chemical industry, etc. because of its flexible arrangement and strong materials adaptability. The equipment adopts the overhead cantilever structure and side reclaiming process which reduces the yard space requirements. This kind of system can be arranged for several materials and several reclaimers for reclaiming several piles. Side type scraper reclaimer is suitable for all kinds of bulk materials especially the wet material and it has advantages of simple structure, reliable performance, low cost, easy operation and others.
Side scraper reclaimer does reciprocating motion along the railway at one side of yard (stacker runs at another side rail), reclaiming materials one layer by means of scraper chain system. The blades fixed on scraper chains scrape the materials to unloading point and then discharging away by belt conveyor.
Basic structure
Side scraper reclaimer consists of scraper reclaiming system, hoist system, frame, fixed end beam, swing end beam, railway, guiding chute, power cable reel, control cable reel, lubrication system, control room, etc.
Main technical parameters
| | | | | | | | | |
| --- | --- | --- | --- | --- | --- | --- | --- | --- |
| Type | Gauge (m) | Material | Bulk density (t/m³) | Granularity (mm) | Moisture (%) | Reclaiming capacity(t/h) | Length of beam(m) | Optional way |
| Side scraper reclaimer | 4-5 | Limestone, coal, accessory material, etc. | 0.9-1.45 | <70 | <2 | 50-3000 | | Rising head type/inclined type/horizontal type |