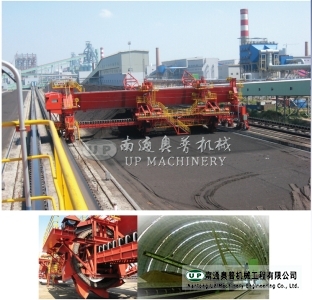 Bucket wheel stacker-reclaimer fit the elongated stock ground. And this is a large load-unload equipment which is highly efficient and continuous operation of bulk materials. It is mainly used in power sector, metallurgy, building material and chemical industry for the coal and mineral's loading and discharging at the stock ground.
Bridge-type bucket wheel stacker-reclaimer mainly used in the iron and steel industry's raw material factory. It could blend the bulk materials like coal, concentrate and fine ore etc. With good effect of blending, powerful material taking ability and highly efficient
It mainly consists of stack system, bucket-wheel structure, belt Conveyor, bridge, rake, walking crane, lubrication system, rail system, control room, etc.
●
Technical Characteristics
The stacker designed by our company completely fulfills the manufacturability of overall design and the reliability and advancement of the equipment.
1. Craft
During the overall design, we completely follow the processes assigned by the Design Academy. And ensure the capability and capacity of the stacker and reclaimer. In the elongated stock ground, we use different stacker process base on different work condition. In circular stock ground, we use continuous synthesis of stacking way ensures the effect of homogenization
2. Reliability
2.1 We use the advanced design method, such as, CAD, 3D design and optimize steel structure design. With the experience and development of making stackers and reclaimers as well as absorbing the advanced technology from foreign country we can guarantee the advanced and reasonable technology and stable equipment.
2.2 With the advanced produce equipment and craft, such as steel pretreatment line which improves the product's quality and anti-corrosion capability, large milling and boring machine improves quality of large parts, we could guarantee the quality of the whole product. Large-scale structural components and drive part we will test in our plant firstly. And rotary part we make by moulds.
2.3 We use new materials, such as wear-resistance material, composite material.
2.4 The fittings we use the first class domestic products and advanced foreign products.
2.5 Soft start and frequency converting control will reduce the damage to the equipment.
2.6 We set different kind of protection measures on the equipment.
2.7 There are advanced testing measures and QC system in our plant.
3. Advancement
3.1 Devices adopt unmanned, automatic material stacking and taking operations, is a high degree of automation products。
3.2 We set several of stacking and taking operations on the equipment could satisfy different work condition stock ground.
3.3 Advanced frequency conversion adopted.
3.4 Cooperating with the domestic universities and Design Academy in various ways that makes better efforts in developing and researching stackers and reclaimers.
●
Main Technical Parameters